this page
.
Yesterday morning was so pretty with all the frost on the shady parts of the yard!
Shirt: JCP
Skirt: Gift
Scarf: Bought in the Montmartre shopping district of Paris, France
Headband: The Town Crier, (A Halmark Store)
Shoes: Gift
Earrings and Bracelets: Gifts
Color: Complementary, opposite each other on the color wheel.
Proportion: Straight skirt, to keep the peplum top flattering. My sleeves have a little floral on them, and the flower on my headband is similar in size.
Emphasis: Scarf looped around my neck to keep the attention at my face instead of dropping down with the lines of the scarf if I hadn't looped it.
Unity: The linen and knit of the skirt and shirt agree, and the scarf's style goes along with the unexpected peplum shirt.
Did you know the name "Jezebel" means "Where's the prince?" Although she was married and her husband was King Ahab, she often acted as one not under the authority of an earthly head. She was independent in a terrible way, killing and manipulating at will. I found it encouraging that it is God's desire and purpose for us women to be under a man's authority, whether that's our daddy's or our husband's. It's His design starting in the Garden of Eden. It's His structure for us to submit, and we can rejoice in that!
So, how was your weekend?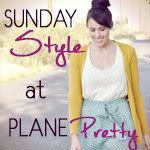 Hey y'all! Sorry for my unannounced absence over the weekend-- I was working feverishly on my next eBook! Still have a bit to do, but it's seeming more manageable. ;) I also didn't have enough submissions for a Friends of Fresh Modesty post... so if you'd like to submit, you're more than welcome! (hint hint) Just see