This morning I rolled out of bed, despite the extra hour of sleep, and pulled on my jeans to go do the chores. Came inside, still had no clue what to wear. Gathered the laundry from the basement and carried it upstairs. Walked into my closet. Still no clue. Just turned around and around, looking for something to catch my eye. Rooted through the piles on the floor...oh, my box of winter skirts. Pulled this plaid one out, and remembered the outfit I posted back in the spring... "
Gray and Tan?
"
blog
it again, too, because there are about 500 more of you reading now than when I originally posted it. Hope you don't mind; I don't have an endless supply of clothes, unfortunately.
Now, the funny part. I looked up the original post as I was dressing to see what shoes I wore with it, and lo and behold, I wore this outfit when daylight savings time started in March, and here I am randomly repeating it on the day DST ended in November. How ironic is that?
Okay, saga's over. Here's what I was wearing:
Shirt: Kohl's
Skirt: Made by me
Shoes: Steinmart
Hat: Original post says Steinmart, but I don't think that's right...
After it got too dark for the park, we stopped at Save-a-Lot for hot dogs for dinner. I forget that my siblings don't usually get the chance to go into the market with us, so they treated it like a grand adventure. They didn't know what bologna was. The great big jugs of unlabeled pink drink? I didn't have any explaination of what it could possibly be except, "Poison." They thought that was pretty gnarly.
Alright, 'nough about me. How was your day?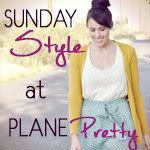 This morning I woke up with absolutely no idea what I was going to wear. I didn't have anything new to work around, or any particular piece in mind like I normally do. I usually lay in bed mentally scrolling through my closet until I have a general idea/theme I'm going for, and then haul myself out from under my 3 quilts.