Annie Moses Band
! We weren't sure we'd have time to get there so we almost didn't go, but I'm SO glad we did. They are absolutely amazing and just, wow. Such high energy! And excellence. Really hoping we can go to another concert in the future!
Rhythm: Not sure I did so well with rhythm this time. But, it did work out that I kept the "flow" of the black bottom half of my shirt by continuing the black in my skirt.
Color: Monochromatic/ achromatic, with black, silver, gray, and white.
Unity: I was
this close
to wearing a green corderoy skirt with this top, but the fabrics just didn't agree as much, so I begged this skirt literally off my sister and the slinkyness goes much better with the satin.
Shirt: Gift from Sears
Skirt: Kohl's 7 years ago
Boots: Stein Mart
Necklace: Charity Shop, looped three times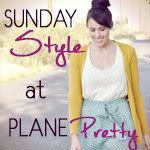 Are you attending any concerts this advent season?

Hey y'all! So so sorry I wasn't able to get a Friends of Fresh Modesty post together for you on Friday. I've thought about listing out everything that I have on my plate right now, but its making my head explode and me want to go back to bed. Or maybe that's the typical Sunday hangover.