I'm still thinking about
last
Sunday's sermon. The phrase, "I am a new creation" has been my motto all week. Yesterday's sermon was very good also, but honestly, I was thinking about the previous week's sermon during a lot of this one! :P So encouraging though, because after last week talking about how justly we will be judged, this week covered how Jesus has paid for our transgressions. Wow.
As I showered this morning, a song came on "Point of Grace" radio on Pandora, and a line jumped out at me. I don't know the song, the artist, or even the exact phrase, but it went something along the lines of, "I want the world to see Your sacrifice on my face." I need to act, speak, and look like I've been given real life-- because I have! This is my goal today; smile! On this blog it probably looks like I smile all the time, but I really don't. I can be pretty grumpy, irritated, or just too tired to move my face in day-to-day life. But, that's the old me, right? Through Christ, I am better than that!
My sister Emma has been the most amazing example of this to me. She has seemed to have the joy of Christ in her since she was a tiny baby. Not just the normal, "Oh, she's a happy person" type, but a strength and joy that so obviously comes from her relationship with God. The kind of thing you see and you want that relationship too.
So these are my Monday morning thoughts, as I drink my huge water bottle with lemon and vitamin C. This outfit was a simple one, and I was kind of surprised when I put it together that I hadn't worn it before. Or, if I had, I hadn't blogged it. :P It's just monochromatic browns with oatmeal accents. I wore this scarf on the inspiration of a commenter who asked why I don't wear scarves more. It added the last bit of warmth I needed yesterday and served as a headcovering during church (just wrapped it around my head like the ladies in the 50's when they drove convertibles ;)) without giving me hat hair. Also, although you can't tell from these pictures, it finished my outfit with some much-needed sparkle. :)
Sweater: F21
Scarf: Bought in Montmartre, France
Skirt: Thrift Store
Boots: Shoe Carnival
Tights: Idk?
Pearl Earrings: Gift
Pearl bow hair-clip: Charity shop
Alrighty, better get started on lunch. Have an awesome day!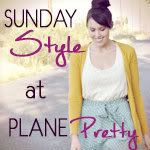 Hey y'all! How are you doing today? I'm a weird mix of encouraged, discouraged, tired, joyful, motivated, and unfocused. But I'm excited, because I know that the Lord will work in my life today, just as He works every day, whether I recognize it or not.